A humble and warm welcome to Ryeford Ponds!
Private and secluded glamping site at Wharton Farm, just minutes away from the beautiful Forest of Dean and Wye Valley.
Accommodation in more detail
Shepherd's Hut
Bell Tents - Tillia & Hawthorn Ridge
Woodland Camping Spots
Shepherd's Hut
Wharton Hut is ideal for a peaceful couple's get away. Sited a little away from the tents, is blessed with the tree tops view and sunsets in the evenings. It is furnished with a  made-up, king size comfy bed, some storage and simple furniture.  Hut is equipped with outdoor seating, fire pit and charcoal bbq for your convenience .  There is a single gas hob inside and all utensils, cooking kit,  small fridge, pots and pans and basic necessities are  provided in its own outdoor kitchenette.  There are plenty of fairy lights installed  for the evenings as there is no electricity on our site. All lights are solar powered. Please bring a power bank (we're happy to charge it for you at home) and a good torch.   There also are some games, books and magazines for you to enjoy. More local information, maps and flyers are available from our Summer Kitchen. 
The flushing toilet and hot shower is located nearby, a short walk down to the valley. It is a shared facility 9with only 2 other families max!) and is cleaned daily.  Please bring your own towels.
You will be able to park  your car nearby.
In holiday time we offer 3 nights weekend breaks (Fri-Mon) and 4 nights mid week stays (Mon-Fri), off peak we're more flexible with an option of 2 nights mid week stay. Check in time is 4-7pm and check out 10:30am.
Bell Tents - Tillia & Hawthorn Ridge
Woodland Camping Spots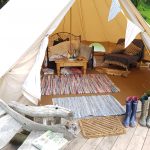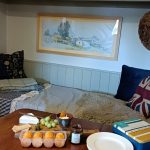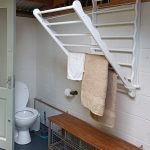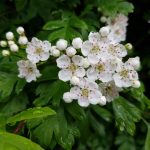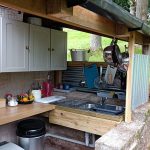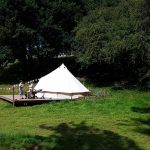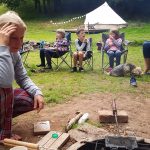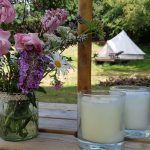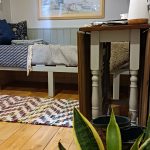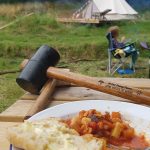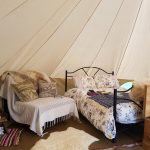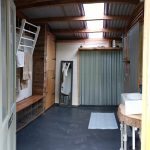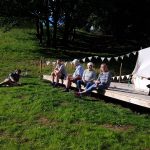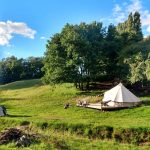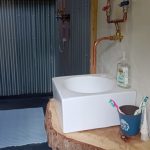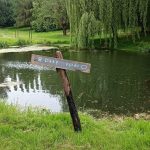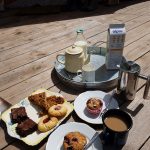 After successful pop-up season in 2021, we joined forces with the lovely gang from The Greener Camping Club and decided to expand a little with addition of two woodland pitches and our shepherd's hut.  Club's eco-credentials and gentle approach to environment appealed to us and we are now members only site. This means that we are going through rigorous inspection annually to make sure we offer high standard of service to our guests and take on stricter club's terms and conditions.  When you book with us you will be enrolled as a member of the club at a small fee of £12/year per family. This gives you access to some of the finest, greenest and cherry-picked campsites and glamping sites in UK. It also means that we get a tree for every member we introduce! Please let us know your favourite native tree and we will try to plant it at our campsite in the Autumn.
We'd love to share our home patch with you and are looking forward to welcoming you and hope you enjoy your stay.
Remote but not too far away
Remote location but with an easy access to main routes (A40, M50)  3 miles from Ross-On-Wye, 1hr from Bristol / Cardiff/ Birmingham
Highly encouraged 'Simple Play'
The body heals with play, the mind heals with laughter and the spirit heals with joy
Cook at the camp or enjoy local take-outs
Cook on a campfire, charcoal  BBQ or on a hob … or treat yourselves to a take-out! Plenty to choose from round here!
Meadows, Ponds and Woodlands
No crowds! Enjoy private and guest-exclusive use of this 6 acre paddock, nestled in a beautiful valley with wild meadows and ponds